Culver Indiana Photography: CCHS Graduation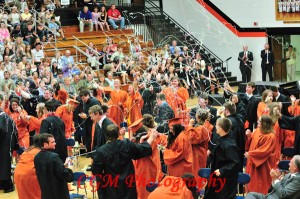 On Friday night, I attended Culver Community High School's Graduation Ceremony at the gymnasium at the High School. I've always enjoyed watching this ceremony, as doing so drives home for me what life in a small town is all about… the community. During the event, I often look around and notice a few other people I know. Like myself, these people do not have kids or grandkids graduating. Instead, they attend to show support for the students and their community. I wanted to shoot the event to ensure someone was capturing this event.
Unlike many graduations that I've photographed over the years, the mood of this ceremony is joyous, and the students are truly happy knowing they will see other over the summer months to come and before going off to college or careers. As you can see in the photos, the ceremony ends with a big bang and a lot of silly string! This appears to be a tradition at the school, as I've now witnessed it three times. Congrats to all of the Culver seniors. We wish you many successes in your future. Following are some photos from the evening's celebration. You can find more at http://www.culverphotos.com/2010cchsgrad.