Tag Archives:
Penn High School Hockey
The other night, the CMA Varsity Hockey team hosted Penn High School for a game played at Culver Academies. The game started interesting enough with Penn playing hard and scoring the first goal. With that, it appeared that Culver might have a struggle with the game. Culver regrouped and fought to win 6-3. It was an exciting game to watch with both teams playing hard. I shoot from the penalty box and saw a lot of players come through it at this game! I've posted some photos here. Other photos are located at:
http://www.culverphotos.com/1_12_11_vhockey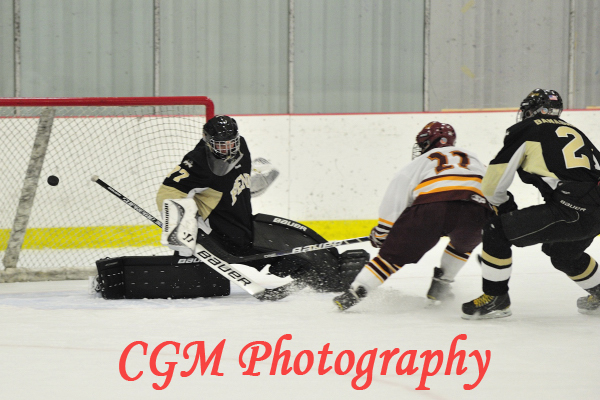 Last night, the CMA Varsity Hockey Team played against Penn High School's U19 Hockey Team on Culver Academy's campus in the Henderson Ice Rink. The CMA Eagles played very well, easily winning 6-0. There were a good deal of penalties throughout the game on both teams. One of these days, I'll understand what those are, but for now, I have to plead ignorance.
Overall, I'm finding the lighting at the rink to be lacking for ideal photos, but I've been editing these in a different way than I did last year, and I like the results much better. Using a low-light lens and high ISO setting helps, but I'd love it if the ice would cooperate with me. I guess you can't have it all. Enjoy the pictures. Some of you might recognize Dustin Cowell, a friend of ours whose dad Danny works at the Academy. Amber Cowell is in some of the CGA hockey pictures. Both of them are great athletes and it's a lot of fun getting their pictures!
I've posted some photos here. Others are located at: http://www.culverphotos.com/12_7_10_cma_vhockey