Tag Archives:
Culver Academy Baseball
Yesterday afternoon, I had two firsts for the Spring. I wore shorts, as the temperature was in the 80s, and I shot a track meet. (See my other blog entry for more on the track meet.)
However, I started my afternoon shooting some of the Culver Academy's varsity baseball team who hosted a match against South Bend Riley. I don't know how the game ended, but it got off to a rocky start. As I've learned with most baseball and softball games, it started late. (If I weren't shooting multiple events in an afternoon, it wouldn't matter. When trying to keep a schedule and make it to other sports, games that start late limit the amount of time that I'm able to stay.) In addition to starting late, the game started with only one umpire. This posed a slight problem as an umpire at home plate has a difficult time seeing the action at the other bases. (There was a bad call at third base that I have the photos to prove. Don't worry, though, it didn't afect the score.) Finally, the CMA Eagles  slow start allowed Riley 3 points in the first inning.
I wish I could have stayed longer, but my plan for the day was to shoot the track meet because I hadn't shot one this year. Because it started later, I decided that getting a little of the baseball game was better than getting none of it. I've posted some photos here. Others are at http://www.culverphotos.com/5_13_10_cmavbaseball.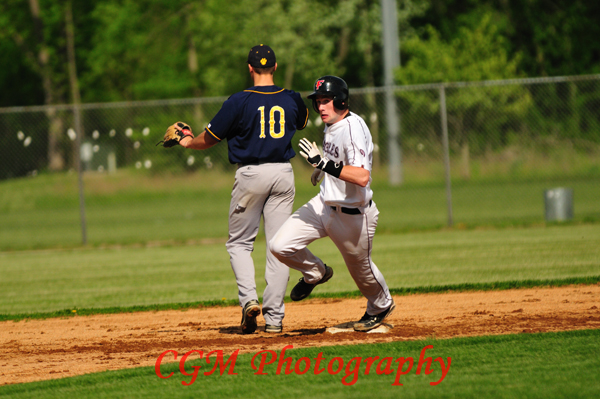 This morning, the CMA Eagles hosted Argos High School in a double header JV Baseball game at Culver. It was a beautiful day, though the bright sun caused some problems for the outfielders. Both teams played well and appeared to be evenly matched. I've posted some photos here; there are more at http://www.culverphotos.com/p327818835.